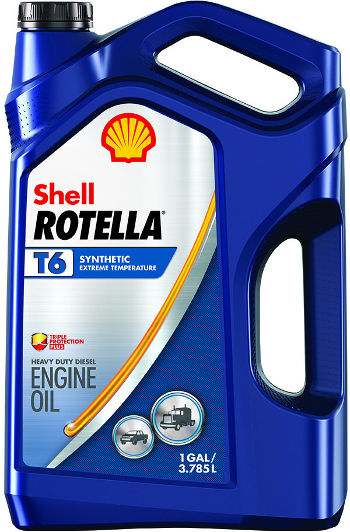 Shell ROTELLA® T6 Full Synthetic motor oil features an advanced multi-functional, low-ash additive technology in a synthetic base oil designed to provide highly responsive protection that continuously adapts to your driving conditions.
Shell ROTELLA® T6 delivers 34% better wear performance on average compared to the previous API CI-4 PLUS 5W-40 formulation. In seven out of seven industry-standard, diesel-engine wear test measurements, Shell ROTELLA® T6 outperformed the previous formulation. LOW EMISSIONS Protecting the performance of your exhaust-emissions control systems is not only important for your vehicles to comply with legislative requirements, but also to promote efficient operations.
For instance, blocked diesel particulate filters (DPF) can actually increase fuel consumption. Shell ROTELLA® T6 is formulated with reduced levels of ash, phosphorous and sulfur to help maintain the efficiency of the latest vehicle-emissions technologies. Meeting the ash, phosphorous and sulfur requirements of API CJ-4, Shell ROTELLA® T6 has been tested and proven to protect your vehicle.
Shell ROTELLA® T6 Full Synthetic helps control the impact of soot on your engine through increased levels of high-performance ashless chemistry that keeps soot particles apart — up to 36% improvement in soot control at typical engine-oil-soot levels.* This helps keep the oil free flowing for good startup and continued energy efficiency, and helps prevent sludge, deposits and wear.
View Shell ROTELLA® T6 product details
| Purchase | Reward Miles |
| --- | --- |
| 5 Liter Jug | 100 |
| Oil Change for Diesel Pickup | 675 |
| Oil Change for Heavy Duty Truck* | 2,250 |